DEAN'S MESSAGE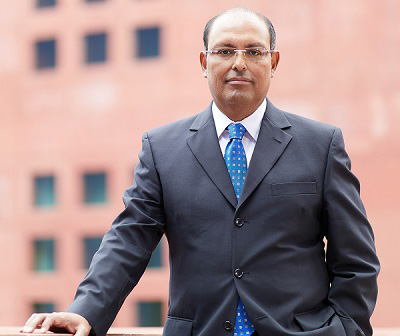 ​
Dear EGADE Business School Community,
We are immersed in an environment of many challenges characterized by volatility, uncertainty, complexity, and ambiguity. Yet, in a world that continues to be conditioned by the impact of COVID-19, we have learned to adapt to unexpected events and demonstrate resilience, agility of response and innovation, and exercise our leadership with responsibility, solidarity, and empathy.
During this time, adaptation has been one of the most important lessons. As organizations and individuals, we must adapt by redefining our vision and strategy to meet the challenges and take advantage of this juncture's opportunities.
As the year draws to a close, I would like to express my sincere thanks and appreciation for your unwavering commitment and enthusiastic participation in the various projects and initiatives we have promoted over the past year. In the 2021 Report that we have prepared, you can learn about the highlights of EGADE during the year.
We know that the coming year will bring us new challenges to face and opportunities to capitalize on, but with all the lessons we have learned throughout these months, I am convinced that we are better prepared.
I can only wish you happy holidays and may the year 2022 be full of health, well-being, peace, harmony and prosperity for you and your loved ones.
Osmar Zavaleta
Interim Dean of EGADE Business School
Associate Dean of Research of EGADE Business School and Undergraduate Business School
Tecnológico de Monterrey
---
#EGADE 2021 IN REVIEW
Over the past year, at EGADE Business School, we have been able to continue leading the transformation of our institution towards our purpose of empowering omni-entrepreneurial leaders who create shared value and transform society.
Our students have acquired the knowledge, skills, vision, and experience to transcend in a complex world and positively impact business and society. Our professors have strengthened their commitment to educational innovation, inspiring students to imagine and create opportunities in the challenging times we live in. And our graduates have excelled as innovative business leaders, helping redefine the future of their industries in an environment of constant change and disruption in business.
In 2021, we have adapted our portfolio of academic programs in an agile and flexible manner; incorporated new and innovative learning formats, methodologies, and tools; promoted applied and highly relevant research; and strengthened our ties with strategic, business, and academic partners at the international level. This enormous effort has been achieved through projects and initiatives linked to the school's four pillars.
Leadership with Purpose
Conscious Enterprise Development
Entrepreneurship and Innovation with Impact
Digital Transformation of Organizations

TRANSFORMING OUR INSTITUTION TO TRANSFORM THE WORLD
In the last year marked by a conscious return to a new reality, we have strengthened our leadership as a global business school based on our flexible, innovative, and cutting-edge educational model, the impact of our centers of excellence, the quality and prestige of our academic programs, and the careers of our graduates. This transformation effort has been recognized once again by the most important international rankings, which place EGADE Business School as the leading school in Latin America, topping the rankings of prestigious rankings such as QS and Eduniversal.
Conscious Return
In January 2021, the gradual reopening of facilities began.
The return to face-to-face classes began in a controlled and voluntary manner at all EGADE sites starting in the summer period, the August semester, and the September quarter with the implementation of the hybrid format of the HyFlex+Tec model, with part of the students present in the classroom and the other part, connected remotely.
Likewise, in September, 25 international students from 13 business schools were welcomed to the Monterrey campus for exchange studies in a hybrid format.
EGADE held its first on-site graduation ceremonies in Monterrey, Mexico City, and Guadalajara between June and July since the beginning of the COVID-19 contingency.
Counting these and the face-to-face graduation ceremonies in December, more than 690 purposeful and conscious women and men leaders graduated from EGADE Business School's graduate programs in 2021.
Centers of Excellence
The research strategy of EGADE Business School and the Tecnológico de Monterrey Business School is deployed through a network of Centers of Excellence and Research Groups with a Strategic Focus, whose objective is to contribute solutions to the most pressing challenges facing organizations and society. As part of the global scientific community, we continue to co-create applied knowledge and build a robust ecosystem of relevant research that helps catalyze solutions to critical societal challenges.
In 2021, we launched the Center for Financial Access, Inclusion and Research (FAIR), in alliance with the Mastercard Center for Inclusive Growth (CIG), which is part of the ecosystem of Centers of Excellence of EGADE Business School and the School of Business, to promote the development of a fairer and more inclusive financial system and a sustainable economy, which contribute to improving the living conditions of the most vulnerable people in Mexico and Latin America.
The institution also launched the Center for Conscious Enterprise (CEC), which also lives within EGADE Business School and the Tec Business School, and will promote the principles of conscious capitalism in a cross-cutting manner. To provide further impetus to these efforts, Raj Sisodia, co-founder and global leader of the conscious capitalism movement, joined the Center as Distinguished University Professor of Conscious Enterprise.

PREPARING RESILIENT LEADERS FOR THE NEW GLOBAL CONTEXT
The accelerated process of digital transformation that we experienced this year and last year has undoubtedly allowed us to be more innovative and ambitious in our project to train our students to transform their organizations and communities. Therefore, in 2021, we have strengthened our portfolio of EGADE programs for the challenges and opportunities of a volatile, uncertain, complex, and ambiguous environment.
Program Portfolio
In graduate programs, the new EGADE - W. P. Carey Executive MBA international dual-degree program began classes in January with its first cohort of students.
In addition, two other new programs, the Master's in Business Analytics and the Master's in Online Finance, received their first students in the April quarter.
Tecnológico de Monterrey and IBM announced an agreement to incorporate the IBM Skills Academy program into the curriculum of EGADE Business School's Master in Business Analytics.
In Executive Education, EGADE launched new 100% online programs: MGMT Business Skills, Intelligent Organizations, Global Scaling, Business Acquisitions, and Customer Experience. In addition, other executive programs were launched, such as Leading Business Families, Reshaping Business with Strategy & Purpose (with Expansion), Real Estate Management (with Urban Land Institute), and Global Leadership (OneMBA Consortium).
In addition, several programs were added to the Alternative Learning portfolio: Professional Certification in Digital Marketing and Customer Engagement, the new Online BootCamps offering, and a new series of flexible and 100% online courses on exponential technologies.
In terms of educational innovation, EGADE and Analytikus announced a collaboration to implement artificial intelligence (AI)-based analysis of training content in the business field.
Global Reach
In 2021, EGADE Business School received the distinction of membership in the Graduate Management Admission Council (GMAC).
It also renewed its membership for the next three years in the Global Network for Advanced Management (GNAM), the most influential global network of business schools worldwide.
As part of GNAM, EGADE delivered 5 courses within the Global Network Week program in the online editions of March, June, and October 2021.
In conjunction with Centrum PUCP (Peru), COPPEAD/UFRJ (Brazil) and IESA (Venezuela), EGADE Business School organized the Latin America Study Week 2021 of the Latin American Alliance of Business Schools (ALADEN), which in its tenth edition was held in virtual format and had as its theme "Innovation and Digital Transformation".
Two EGADE Business School initiatives were named finalists in the AMBA & BGA Excellence Awards 2022: the innovative learning platform Alternative Learning and the SWIT research project, in the Best Lifelong Learning Initiative and BGA Business School Impact categories, respectively.
EGADE's Performance in Global Rankings
EGADE was distinguished as the best business school in Mexico and Latin America for the fourteenth consecutive year, according to the 2021 results of the Eduniversal Business Schools Ranking.
The school also reaffirmed the leadership of its graduate programs in Mexico and Latin America in the 2021 edition of the Eduniversal Best Masters & MBAs Rankings.
In the QS Global MBA & Business Masters Rankings 2022, EGADE was once again positioned with the number 1 full-time MBA and the best graduate programs in Finance and Management in Mexico and Latin America, highlighting employability, entrepreneurship and trajectory of its graduates worldwide.

INSPIRING PROFESSORS AND HIGH-IMPACT RESEARCH
Professors and researchers are the backbones of our transformation project. For this reason, we have continued to invest in their development and innovate in pedagogical practices to continue inspiring thousands of students. In 2021, we have also promoted applied and highly relevant research, adapting our links with strategic business and academic partners to solve the most pressing challenges facing organizations and society.
Appointments, Additions, and Distinctions
Within the institution, Osmar Zavaleta was appointed Interim Dean of EGADE Business School, maintaining his position as Associate Dean of Research of EGADE Business School and the Tec Business School.
His predecessor Ignacio de la Vega completed his role as Dean of EGADE Business School and the School of Business to assume the leadership of the Executive Vice Chancellor for Academic Affairs, Faculty and Internationalization of Tecnológico de Monterrey.
Daniel Maranto, who had been serving on an interim basis as Director of EGADE Business School Monterrey, assumed this responsibility permanently.
Eduardo Aguiñaga was appointed National Director of Full-Time Programs, covering the Full-Time MBA in Innovation & Entrepreneurship and the Master in Business Management.
Eva Guerra was appointed Director of the EGADE MBA Monterrey and Director of the EGADE - UNC Charlotte MBA in Global Business & Strategy.
Ezequiel Reficco was invited to lead EGADE Business School's Case Hub initiative.
Among the appointments received outside the institution, Christiane Molina, Academic and Research Director of the Center for Conscious Enterprise, was appointed as a member of the newly created PRME Global Chapter Board.
Ajnesh Prasad, research professor at EGADE, was appointed associate editor of Human Relations, one of the most prestigious business school journals globally.
Yarid Ayala, research professor attached to the Leadership GIEE at the School of Business and EGADE Business School, joined the Journal of Happiness Studies (JOHS) editorial board.
This year, the following joined the EGADE faculty: Diana Kolbe as Professor of the Department of Marketing and Business Intelligence; Cristian Granados as Professor of the Department of Entrepreneurship and Technological Innovation; and Juan Carlos Rivera López as Professor of the Department of Strategy and Leadership.
In addition, international visiting professors from the United States, India, Spain, Portugal, Greece, Canada, and Venezuela joined the EGADE Business School faculty.
Among the distinctions, Everardo Elizondo, academic leader of EGADE Business School, was invested Doctor Honoris Causa by the Universidad Autónoma de Nuevo León.
The SWIT research project, led by Carlos Scheel, was recognized within the 2021 edition of AACSB International's Innovations That Inspire program.
Mariana Alfaro and Javier Reynoso, EGADE professors, were highlighted in season 2 of Outliers.
High-impact Research
148 research papers were developed: 82 published academic articles / 5 books / 25 book chapters / 9 supervised doctoral theses / 1 dissertation / 22 conference papers / 7 practice-oriented research papers / 2 studies and reports as part of an international network.
New books by EGADE faculty include Designing New Circular Economy Businesses, by Carlos Scheel; Crowd-Based Business Models, by Rajagopal; Finance in Private Family Businesses, by Federico Trigos and Mario Doria, among others.
Book chapters include "Innovation based on co-creation of value through HCL Technologies' employees," by Anabella Davila in Innovation from Emerging Markets; "Historical Context and Present Energy Use in the Global Economy," by Alejandro Ibarra in Energy Issues and Transition to a Low Carbon Economy. Insights from Mexico; "The development of high-potential intrapreneurs: an executive education approach to drive innovation in Latin American companies", by Cristian Granados and Cris Bravo in Innovation in Global Entrepreneurship Education. Teaching Entrepreneurship in Practice; "How socially responsible HRM should be understood in Latin America", by Anabella Dávila in Talent Management in Latin America: Pressing Issues and Best Practice; to mention a few.
José Ernesto Amorós coordinated the research in Mexico for the Global Entrepreneurship Monitor (GEM) 2020/2021 world report and was one of the authors of the report "Retos y oportunidades para la constitución de empresas en México. Un análisis de las sociedades mercantiles", by the Tec de Monterrey, Friedrich Naumann Foundation for Freedom and the Mexican Entrepreneurs Association.
The Center for Innovation and Entrepreneurship of EGADE Business School and the Mexican Private Equity Association (AMEXCAP) developed the study "Experiences and Best Practices of Corporate Venture Capital in Mexico".
The Financial Think Tank of EGADE Business School presented the Evaluation Study of the Banco Nacional de Comercio Exterior (Bancomext).
The CERALE-EGADE Business School 2021 Colloquium, organized by EGADE Business School and the Centre d'Etudes et de Recherche Amérique Latine Europe of ESCP Business School, brought together more than 270 research professors, doctoral students, academic and business leaders.
The International Virtual Congress CLADEA 2021, co-organized by EGADE Business School, had as its central theme "Innovation, conscious business and the future of education".
Dissemination of Ideas and Opinion 
Faculty participation in EGADE IDEAS and the media: More than 1,300 media impacts (national, local and international), of which 65% in Tier 1 media, impacting an audience of 190,627,378 people.
This year, Territorio Negocios podcast published more than 1,100 minutes of content in 40 episodes, reached second place in the Business category of Apple Podcasts, was positioned within the Top 50 Business on Spotify and was consolidated in Google Podcasts and Amazon Music, adding more than 28,200 plays and 5,800 listeners.
The EGADE Future Forum webinar series, launched in April 2020 to provide knowledge and respond to contingency by COVID.19, continued in 2021 with 13 new high-impact webinars with national and global leaders. The series reached an audience of more than 34,100 unique viewers. These sessions, moderated by and with EGADE professors and business and institutional leaders, discussed multiple topics, including agile organization, exponential technologies, customer experience, corporate responsibility, adaptability to change, economic policy, retail innovation and artificial intelligence ethics, among others. Guests included Oriol Bonaclocha, president of Mondelez Mexico; Loreanne Garcia, co-founder and Chief People Officer of Kavak; Isaias Martinez, senior vice president of Sales at PepsiCo; and Adriano Silva, senior vice president of Salesforce, to name a few.

STUDENTS AND ALUMNI: AN ENGAGED COMMUNITY OF GLOBAL LEADERS
We want to ensure that our students and alumni live in an enriching environment to update their knowledge and skills, strengthen their networking, and generate impactful interactions with global experts. Moreover, they inspire and motivate us to continuously improve and innovate to create more value for them every day. In 2021, our graduates and students have been recognized by various national and international organizations, highlighting their achievements in entrepreneurship for their successful trajectory and their great potential as transformational leaders.
Alumni Awards
Distinctions to the EXATEC-EGADE
Students and Alumni Publications
Experience and Networking