Daniel Rodríguez Cofré, CEO of FEMSA, was the guest speaker in the first of three graduation ceremonies to be held this month at the EGADE Business School sites
By JOSÉ ÁNGEL DE LA PAZ | EGADE BUSINESS SCHOOL
The class of June 2022 of EGADE Business School, Monterrey site, and the EGADE program MBAOnline celebrated the culmination of their postgraduate studies in the first of three graduation ceremonies to be held this month.
The ceremony took place on June 25 in the EGADE Monterrey Congress Hall and was broadcast live on live.tec.mx and Facebook Live  of EGADE Business School.
EGADE TWEET
On this occasion, 168 masters and 3 doctors were recognized. The graduates hailed from different Mexican states and six other countries (Argentina, Colombia, Costa Rica, Guatemala, Peru, and Venezuela) in Latin America. Per program, 88 graduated from the EGADE MBA, 22 from the EGADE MBAOnline, 12 from the EGADE – UNC Charlotte MBA in Global Business & Strategy, 44 from the Master in Finance, 1 from the Master in Business Management, and 3 from the Ph.D. in Administrative Sciences.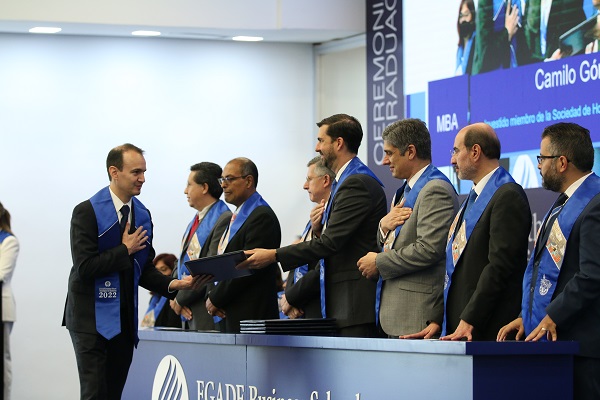 The graduation ceremony in Monterrey was presided over by Daniel Rodríguez Cofré, CEO of FEMSA and guest speaker; Juan Pablo Murra Lascurain, Rector for Higher Education, Tecnológico de Monterrey; Horacio Arredondo Villalba, Dean of EGADE Business School; René Cabral Torres, Associate Dean of Faculty Development, EGADE Business School; Daniel Maranto Vargas, Director of EGADE Business School, Monterrey site; and Jorge Velarde Chapa, Director of Academic Programs, EGADE Business School.
WE MUST ALWAYS LIVE BY OUR VALUES: GUEST SPEAKER
In his address, Rodríguez Cofré shared with the graduating students some of the qualities required to lead with a sense of humanity.
PHOTO GUEST SPEAKER
"We must always live by our values. I would like to invite you to be good, upright people. There is no greater satisfaction than doing good for others. Be kind, don't be so hard on yourselves or others, especially your teams. Try to be unassuming and humble, let go of your ego; if you are in an organization, you are there to serve and to safeguard it, your teams and others," the executive stated.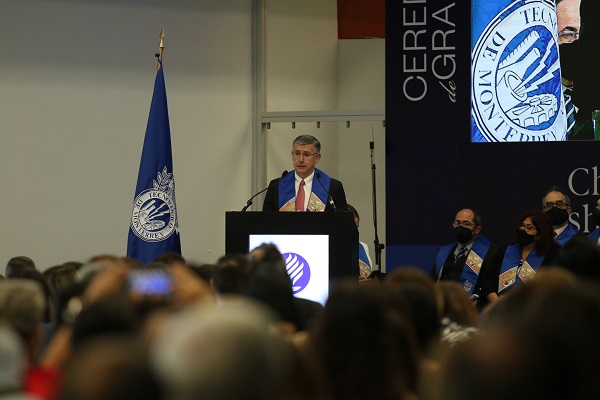 Rodríguez Cofré told the graduates that as leaders they will be responsible for creating appropriate contexts to enable their teams to flourish.
"Be willing to unlearn, to acknowledge that some of our ways of thinking and of doing things will no longer work in the new reality," the guest speaker said.
NOW IT'S OUR TURN TO TEACH OTHERS: STUDENT SPEAKER
Karen Patricia Rodríguez Bú, EGADE MBA student at the Monterrey site, delivered a message on behalf of her class.
The alumna, who graduated with honors, the highest grade average in her program and the top average of her class, urged her peers to think always about the coming generations and the role they play in their future.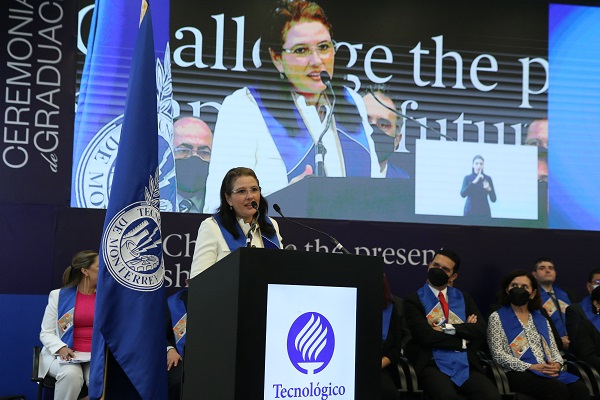 "I would like to invite you to remember that we came here to learn, but now it's our turn to teach others. Let's not work to decipher an uncertain future, but to transform it, building a decent, inclusive and sustainable world," Rodríguez Bú said.
ENRICH OTHER PEOPLE'S LIVES: RECTOR
Before taking the pledge from the graduates, Murra Lascurain urged them to live life to the full and enrich other people's lives, by being empathetic, instilling hope in the new generations, driving entrepreneurship, and keeping their intellectual curiosity alive.
JPM TWEET
"I would like you to know that you will always be welcome at your alma mater, and will continue to form part of our history and community, now as EXATEC (Tec Alumni). We will be the witnesses to your achievements and battles. Build extraordinary lives. Mexico and the world need you," the Rector stated.
EGADE Business School will continue to celebrate the graduations of the Class of June 2022 with ceremonies on June 28 and 29 at the Santa Fe and Guadalajara sites, respectively.