The guest speaker at the event was Marisa Lazo Corvera, founder and CEO of Pastelerías Marisa and Chair of the Board of Tecnológico de Monterrey, Western Region. 
By JOSÉ ÁNGEL DE LA PAZ | EGADE BUSINESS SCHOOL
Delighted to have concluded such an important stage in their development as business leaders, the class of December 2021 from the Guadalajara site of EGADE Business School - Tecnológico de Monterrey celebrated their graduation in person.
During the ceremony, a total de 52 masters, from across Mexico and another 5 countries (Chile, Ecuador, USA, Colombia, and Brazil), received their diplomas and academic degrees. By program, 51 graduated from the EGADE MBA and one from the Master in Business Administration.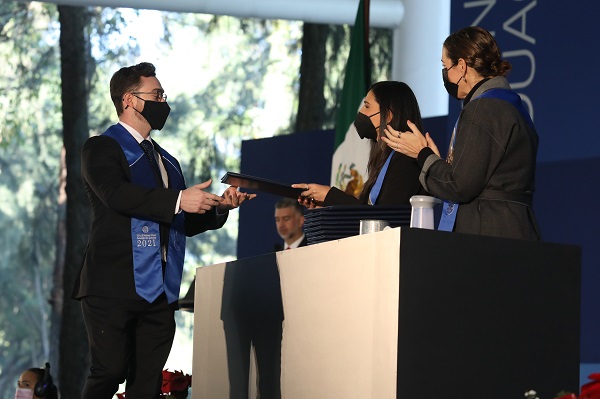 The event took place on December 16, complying with all the safety and hygiene protocols, at the Campus Guadalajara Sports Dome, and was broadcast on EGADE Business School's Facebook Live and the site LIVE.TEC.MX.
The presidium comprised Marisa Lazo Corvera, CEO of Pastelerías Marisa, and Chair of the Board of Tecnológico de Monterrey, Western Region; Claudia Félix Sandoval, Vice-President of Tecnológico de Monterrey, Western Region; Laura Zapata Cantú, Associate Academic Dean, EGADE Business School; René Cabral Torres, Associate Dean of Faculty Development, EGADE Business School; and Raúl Montalvo Corzo; Director of EGADE Business School in Guadalajara.
AS LEADERS, WE NEED A HOLISTIC OUTLOOK: GUEST SPEAKER
In her address as guest speaker, Lazo Corvera claimed that the demands on today's leaders are much greater than before.
"Those of us who lead a company or are entrepreneurs, need a more holistic outlook, not just looking out for our shareholders, but also each and every interest group, in other words, customers, suppliers, employees, collaborators, the community in which we operate, and society," she said.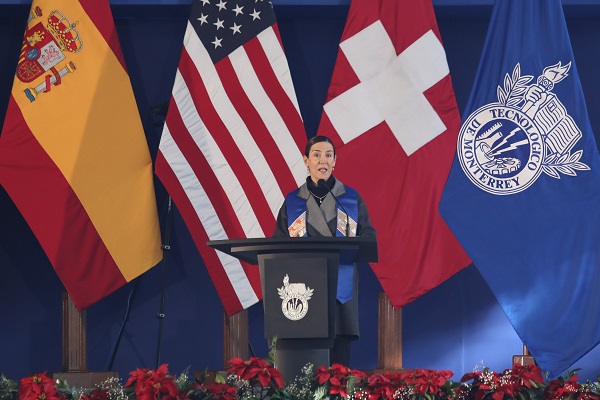 In order to fulfill this role, she affirmed, leaders need to be well trained and know how to make the right decisions, considering everybody's needs and ensuring that everyone wins.
"This should benefit far more people, don't keep it to yourselves; help, share, promote, and make sure that your growth, your achievements, will benefit the greatest number of people possible," Lazo Corvera urged the graduates.
WE ARE EQUIPPED TO LEAD TRANSFORMATION IN ORGANIZATIONS: GRADUATING CLASS STUDENT SPEAKER
Ricardo Arturo Sol Molina was in charge of offering an address on behalf of his class
The EGADE MBA graduate stressed that despite the changes, difficulties and challenges involved in studying a graduate degree during a pandemic, they had managed to emerge stronger and ready to make a difference.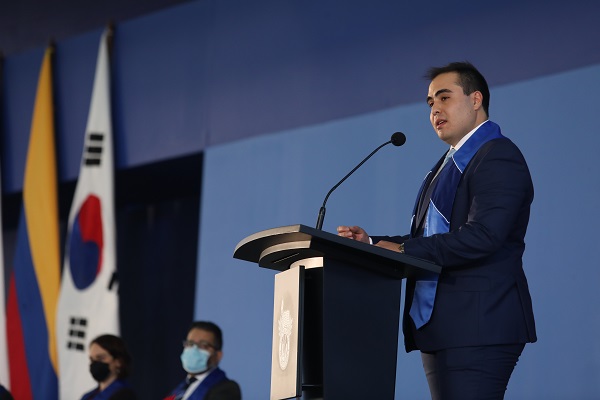 "And here we are today, victorious, receiving our degrees, equipped with the knowledge and competencies to lead transformation in our organizations, endeavors, and communities, as authentic leaders in the most difficult and uncertain of times, rapidly adapting to any challenge that may arise, without losing sight of the future or our goals, and with empathy and humanity despite the physical distance," Sol Molina said. 
OUR COMMUNITY REQUIRES AGENTS OF CHANGE LIKE YOU: DIRECTOR OF THE EGADE GUADALAJARA SITE
In his message to the graduates, Montalvo Corzo said that he was convinced that the preparation and training they had received at EGADE Business School had furnished them with the knowledge, skills, and competencies to contribute with part of the solution to the challenges that organizations and society face, and will face, in an increasingly VUCA (volatile, uncertain, complex, and ambiguous) world.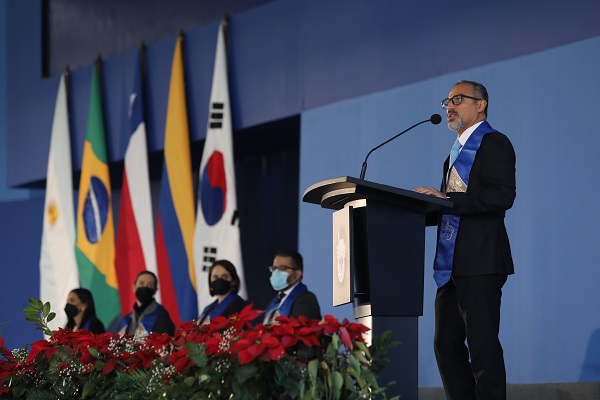 "You have strengthened the bases so that your vision, leadership, and determination will not only translate into personal success and advantage, but will also be accompanied by the quest to benefit our community, which requires agents of change," he stated.
The director of the EGADE Business School site in Guadalajara urged the graduates to build, from their areas of influence, a more prosperous, equitable, just, and uncorrupt society, with equal opportunities for everyone who deserves them.
To bring the ceremony to a close, Félix Sandoval took the pledge from the new EGADE alumni.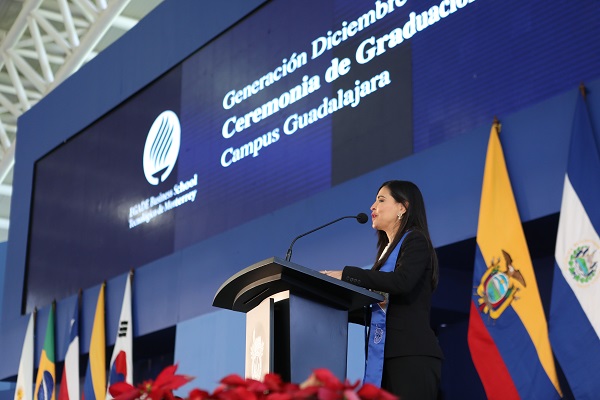 The class of December 2021 from the Monterrey site of EGADE Business School celebrated their graduation in person on December 11.
Meanwhile, the December 2021 classes from Santa Fe, Querétaro and Lima, Perú, graduated together in an in-person ceremony on December 14, in Mexico City.
These new graduates bring the number of academic degrees awarded by EGADE Business School - Tecnológico de Monterrey to a total of 7,338