Luis Donaldo Colosio Riojas, Mayor of Monterrey, was the guest speaker for 211 master's and doctoral graduates. 
By JOSÉ ÁNGEL DE LA PAZ | EGADE BUSINESS SCHOOL
The class of December 2021 from the Monterrey site of EGADE Business School - Tecnológico de Monterrey celebrated the culmination of their graduate studies with great enthusiasm, particularly as they had the opportunity to participate in an in-person graduation ceremony.
The ceremony recognized 208 masters and 3 doctors, from across Mexico and another 13 countries (Argentina, Austria, Bolivia, Colombia, Costa Rica, Ecuador, Spain, USA, Guatemala, Honduras, Peru, Dominican Republic, and Venezuela).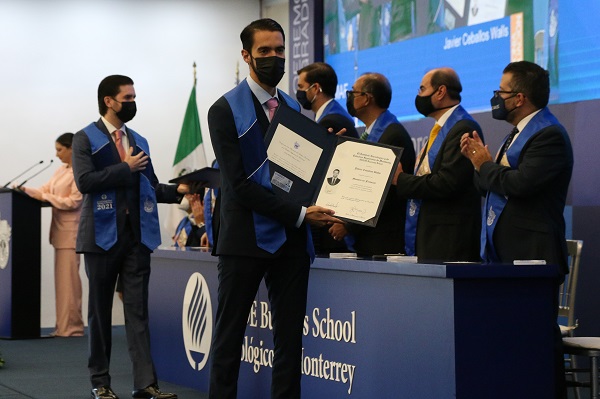 The majority decided to attend in person to receive their diplomas and academic degrees, accompanied by their loved ones. Those who chose to follow their graduation virtually, were able to do so through EGADE Business School's Facebook Live and the site LIVE.TEC.MX.
Graduates from this class were, by program, 27 students from the Master in Business Management, 103 from the EGADE MBA, 8 from the EGADE MBA Online, 34 from the EGADE – UNC Charlotte MBA in Global Business & Strategy, 9 from the Global OneMBA, 26 from Master in Finance and 3 from the Ph.D. in Administrative Sciences.
The event took place on December 11, complying with all the safety and hygiene protocols, in the Congress Hall at the EGADE Business School site in Monterrey.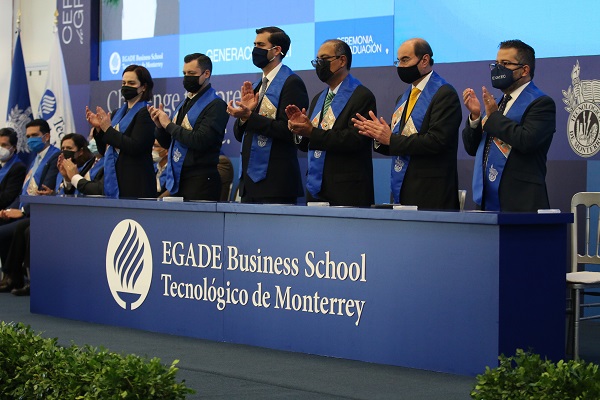 The ceremony was presided over by Luis Donaldo Colosio Riojas, Mayor of Monterrey and guest speaker; Juan Pablo Murra Lascurain, Rector for Undergraduate and Graduate Education at Tecnológico de Monterrey; Osmar Zavaleta Vázquez, Interim Dean of EGADE Business School and Associate Dean of Research of EGADE Business School and the Tecnológico de Monterrey School of Business; Laura Zapata Cantú, Associate Academic Dean, EGADE Business School; René Cabral Torres, Associate Dean of Faculty Development, EGADE Business School; and Daniel Maranto Vargas, Director of EGADE Business School Monterrey site.
USE YOUR KNOWLEDGE TO IMPROVE OTHER PEOPLE'S LIVES: GUEST SPEAKER
In his address, Colosio Riojas asked the new EGADE alumni to use the privilege of their world-class graduate education to improve other people's lives.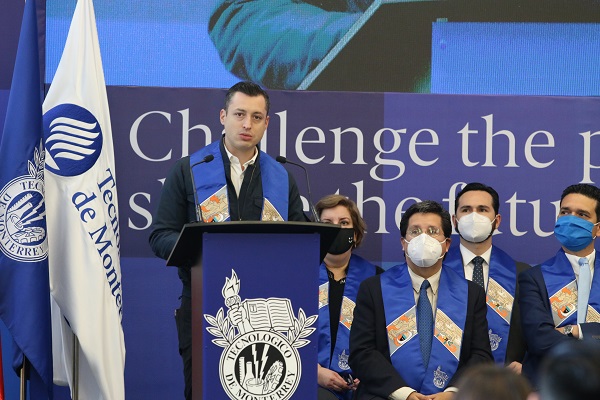 "Here you have acquired knowledge to be businessmen and women, executives, with a transformative vision and capacity. From now on, you will be going back to your companies to apply these vast capacities, to create new things, to consolidate projects, to reach new heights, and I am sure you will do so successfully. What I would like to ask you is that this privilege of knowledge and the position you will have should always be linked to the social reality, and that you never stop valuing the community as a whole," the Mayor said.
WE SHOULD FEEL PROUD OF WHAT WE HAVE ACHIEVED: STUDENT SPEAKER
Ana Gabriela García Esquivel, Master in Business Management student, spoke on behalf of the graduating students from the class of December 2021 at EGADE Monterrey.
Over the past two years, she stressed, you have faced a pandemic with moments of uncertainty, stress and anxiety, but, nevertheless, you have managed to develop the capacity for resilience, determination and perseverance to reach your goal.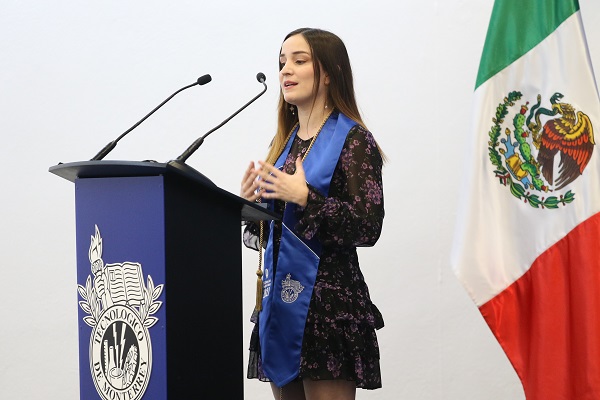 "Today, we have the opportunity to look back and remember all those good moments we built and experienced during our time at EGADE, as well as the sacrifices involved, and feel fully satisfied knowing that we have completed this great personal and professional project," she said.
The EGADE - Boston University Metropolitan College summa cum laude dual-degree graduate invited her classmates to feel proud of what they have achieved and become.
"Let's celebrate the end of a wonderful stage and the beginning of a lifetime. I wish you every success in your journey," García Esquivel stated.
BE AGENTS OF ACTION, INNOVATE, CREATE VALUE FOR SOCIETY: RECTOR
Before taking the pledge from the graduates, Murra Lascurain urged them to be agents of action, question paradigms, and generate shared value for society.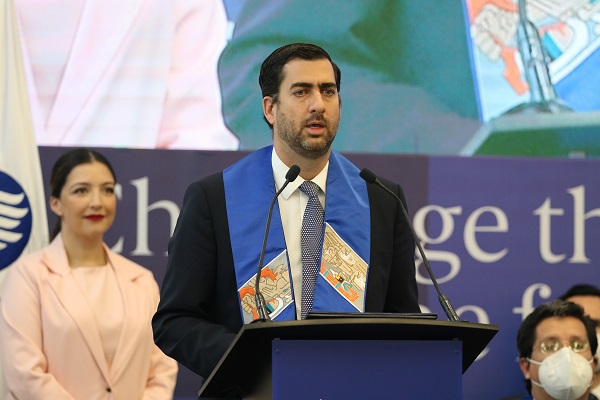 "We will witness your achievements and your struggles. Build extraordinary lives. Mexico and the world need you. Congratulations and don't forget that Tec will always be your second home, " the Rector said.
This is the second graduation ceremony held in person at the EGADE Business School Monterrey site since the start of the COVID-19 pandemic.
The Santa Fe and Guadalajara sites of EGADE Business School have also scheduled in-person graduation ceremonies for December 14 and 16, respectively.