The CIE offers a meeting space for investment opportunities under the entrepreneurship through acquisitions model 
By JOSÉ ÁNGEL DE LA PAZ | EGADE BUSINESS SCHOOL
Within the framework of Enlace+ Day Monterrey, the Center for Innovation and Entrepreneurship (CIE) of EGADE Business School - Tecnológico de Monterrey held its second Search Fund Investment Forum.
The event took place on June 17 in the Auditorium of EGADE Business School, Monterrey, seeking to offer a meeting space for investment opportunities under the entrepreneurship through acquisitions model, regarding either the search stage or the acquisition of companies.
This edition, apart from offering a brief panorama of the current situation of Search Funds in Mexico and their potential in the development of the entrepreneurial ecosystem, enjoyed the presence of the investment firms Cerasus Capital and Belth Capital.
Forum participants included Félix Cárdenas, Director EGADE Business School's CIE, and experts Manuel Núñez and Jerónimo Siqueiros.
Search Funds offer entrepreneurs the opportunity to become equity-owning CEOs and can provide investors with attractive returns.
NEW GENERATION OF ENTREPRENEURS INTRODUCED AT ENLACE+ DAY MONTERREY CHAPTER
Enlace+ Day, held at EGADE Business School Monterrey, included the introduction via video of the 29 companies selected nationwide in the 2022 call and who will form part of the Class of 2024 of the Enlace+ Professionalization Program.
At the event, the 29 selected companies, five firms and their entrepreneurs were welcomed to the Monterrey Chapter:
· Bebida Viva (Marcelo Hinojosa): Produces healthy, practical and nourishing beverages, such as Bebida Viva Kombucha and Rocamina Agua Mineral.
· Kolonus (Francisco Macedo, Ángel Ortiz, and Humberto de León): Digital platform consisting of software, hardware, and processes, with innovative 360° applied technology, centered on the best experience for residents.
· Skye Group (José Arturo Caballero, Gustavo García, and Stella Jiménez): Consulting services and applied innovation development for idea validation, product development, concept validation, launch of startups and/or spin-offs, or the creation of innovation centers.
· Teiker (Héctor Quintanilla, Noé Quintanilla, and Rodrigo Sosa): eCommerce logistics solutions for businesses that require last-mile delivery, product storage, pick & pack, kitting services, and any other similar requirement within the overall logistics system.
· Tortiregias (Gerardo Sánchez and Neliza López): Corn-based products made to the highest quality standards and with best manufacturing practices, raising awareness about healthy eating.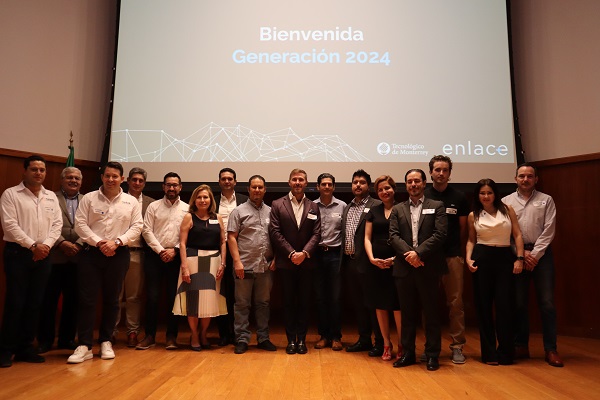 The 29 selected companies will receive guidance and strategic support for 2.5 years to become a model of success in Mexico. The national list is available here.
Ramiro Lozano, National President of Enlace+, was in charge of welcoming the attendees, who included the network's board members, mentors, and entrepreneurs, investors, and Tecnológico de Monterrey officers.
In addition, Elda Cota, President of Enlace+ Monterrey, delivered a message to recognize the new generation of entrepreneurs from that chapter.
The event concluded with a networking session among the members of the Enlace+ network, Tec community, and strategic partners, who shared perspectives of the entrepreneurial ecosystem.