CEMEX's CEO is distinguished for his career of positive impact on the organization globally and as an alumnus of EGADE Business School at Tecnológico de Monterrey.
By INSTITUTIONAL COMMUNICATION | EGADE BUSINESS SCHOOL
Fernando González Olivieri, CEO of CEMEX, was distinguished this 2023 within the select group of Influential Leaders of AACSB International. This organization brings together the most prestigious business schools in the world, connecting them with industry, government, and NGOs to promote positive transformation of society.
This recognition is awarded annually to outstanding alumni of the more than 950 AACSB-accredited member institutions around the world, and this year the global call sought to honor business leaders committed to the social impact of their organizations.
As an alumnus of the Master of Administration from EGADE Business School, González Olivieri received this distinction from AACSB for his outstanding career of positive impact leading CEMEX globally.
"Fernando is a global business leader committed to building a better future, who firmly believes in empowering people through continuous education and results-oriented climate action to create sustainable value for all. As an alumnus of our school, he fills us with pride and inspires us to continue realizing our purpose of rethinking the future of business so that it has an impact on the sustainable development of Latin America", said Horacio Arredondo, dean of EGADE Business School.
We're pleased to announce the 2023 Class of Influential Leaders!

These alumni of AACSB-accredited business schools are defining what it means to be a societal impact leader committed to positive change.

🌟Congratulations!🌟#AACSBleads
View the class: 🔗https://t.co/V9MhY4urkI pic.twitter.com/M9TL9j5pHG

— AACSB (@AACSB) February 6, 2023
AACSB's Class of 2023 Influential Leaders is comprised of 15 female and ten male alumni from 25 business schools from Brazil, China, France, Ireland, Israel, Malaysia, Mexico, Poland, Switzerland, the United Kingdom, and the United States, who share their passion and dedication to lead and innovate within their industries and impact their communities.
"I feel very honored by this recognition that the prestigious AACSB association gives me. It is also true for Tecnológico de Monterrey and EGADE, where I had the opportunity to prepare, as well as for all CEMEX employees, who, with their talent and tireless effort, help to build a better future every day," said González Olivieri.
A BUSINESS LEADER WITH A POSITIVE SOCIAL IMPACT
Fernando Gonzalez Olivieri is a global leader as the CEO of CEMEX, a building materials and services company with operations across Mexico, the U.S., Europe, the U.K., North Africa and the Middle East, Asia, Central, and South America, and the Caribbean. He also serves on the CEMEX Board, as well as on the boards of Grupo Cementos de Chihuahua, telecoms company AXTEL, and Universidad Tecmilenio in Mexico.
González Olivieri is responsible for leading more than 46,000 employees worldwide to create lasting value for the company's stakeholders, with annual sales of around $15 billion.
With a trajectory of over 30 years at CEMEX, Gonzalez Olivieri was appointed CEO in 2014, and he has headed some of the company's major efforts to lead the global building materials industry in priority areas like Health and Safety.
Gonzalez Olivieri is especially dedicated to sustainability and effective climate action to address the pressing challenge that global warming and climate change pose to humanity and all life on Earth. As a company that aims to build a better future, CEMEX has publicly committed to some of the most ambitious decarbonization goals in its industry for the year 2030 and to achieve net zero by the year 2050—goals that the independent Science Based Targets initiative, or SBTi, a recognized nonprofit organization, has already validated.
As part of its Future in Action program to achieve its far-reaching decarbonization goals, CEMEX already offers a line of low-carbon building products named Vertua, and last January 2023, it launched an entirely new business, called Regenera, contributing to a circular economy by using non-recyclable waste and industrial byproducts as more sustainable fuels.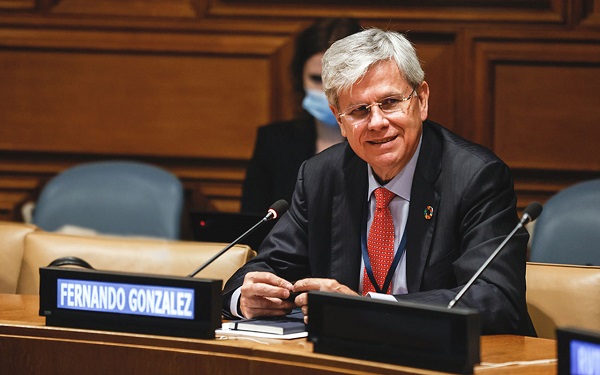 CEMEX has also made long-standing contributions to the Sustainable Development Goals. At a recent U.N. General Assembly CEO roundtable, held in September 2022, Gonzalez Olivieri said, "We recently agreed to strengthen our partnership with the U.N. on topics aligned with our areas of expertise, including sustainable finance, improving supply chains, strengthening gender diversity and inclusion, and a just transition to a carbon neutral economy."
Gonzalez Olivieri has also led the digital transformation of the company, among other actions, with its CEMEX Go platform, through which customers can select products and building services, monitor their delivery in real-time, and make their invoicing and payments securely, providing a best-in-industry overall experience. At the same time, he has also promoted more significant innovation, both through in-house R&D efforts and through CEMEX Ventures. This division invests in promising startups that are driving the future of the building materials ecosystem, including areas like 3D printing using ready-mix concrete.
Finally, under Gonzalez Olivieri's leadership at CEMEX has continued to provide a positive social impact for its neighboring communities and society around the world, with initiatives like Patrimonio Hoy, a microfinancing program that helps low-income families build their housing or make value-adding renovations. As of 2023, the program is celebrating 25 years of providing advancement opportunities to people in need worldwide. On an accumulated basis, throughout the years, CEMEX has positively impacted more than 25 million people, and it aims to reach 30 million by the year 2030.
EGADE Business School holds the AACSB, EQUIS, and AMBA accreditations, the "triple crown," the highest recognition that a business school can obtain internationally and which only 1% of business schools in the world have.
More information about the trajectory and impact of González Olivieri, here.
The complete list of AACSB's 25 Influential Leaders 2023 can be found here.