EGADE Business School is the only business school in Mexico, and the first of four in Latin America distinguished with the "5 Palms of Excellence".
By INSTITUTIONAL COMMUNICATION | EGADE BUSINESS SCHOOL
EGADE Business School of the Tecnológico de Monterrey was distinguished as the best business school in Mexico and Latin America for the sixteenth consecutive year, according to the results of Eduniversal's Business Schools Ranking 2023.
This achievement was announced during an awards gala at the 2023 Eduniversal World Convention, held on November 1 in the Fiji Islands, where EGADE Business School received the Gold Award for the Top 3 in Latin America, and it was revealed that the school will be hosting the convention in its 2024 edition in Guadalajara.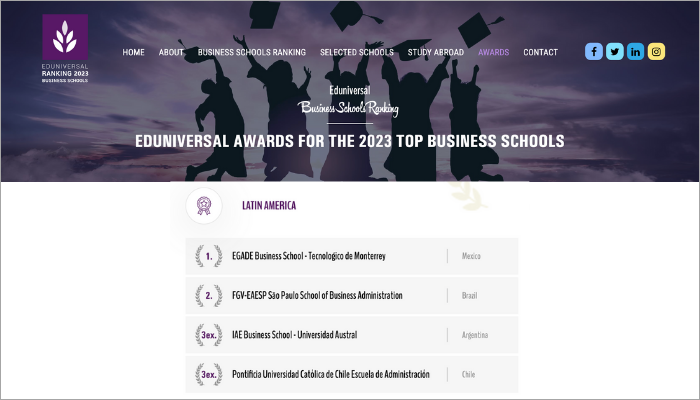 EGADE is once again positioned as the only school in Mexico and the first of four in Latin America included among the 100 awarded globally with the maximum recognition of the "5 Palmes of Excellence" and distinguished as "Universal Business Schools with strong global influence."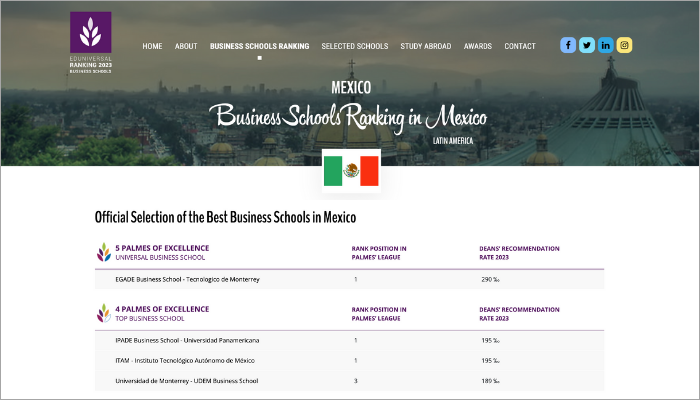 "Thank you to each and every one of our students, professors, alumni, collaborators, and global partners, who, with their excellence and impact, have made this recognition possible over 16 years, consolidating our school as a leader in business education in Latin America and globally," said Horacio Arredondo, dean of EGADE Business School.
This Business Schools Ranking evaluates a selection of the 1,000 best business schools in 153 countries and 9 geographical zones, prepared annually by the International Scientific Committee (ICC) of Eduniversal.
The results of the 2023 ranking for Mexico can be consulted here, and the list of the Top 3 by geographical zone here.