It is much easier to measure product quality over service quality. When it comes to products, the customer creates their own expectation based on tangible attributes such as size, content, shape or material, whereas when it comes to addressing more intangible attributes, rating service quality is always going to be more subjective. This is down to quality being evaluated from the perspective of the customer. What may seem clean or fast to one person, may not seem the same to another, and what one person may deem important, another might not care for.
Quality perception can vary not just from person to person, but also from service to service, comparing the service of a beauty salon to that of an airline or even a dentist is remarkably different. That is why using a generically applicable measurement scale such as SERVQUAL for all sectors and cultures has been questioned. In fact, customer expectations tend to vary in accordance with their different cultural values. Furthermore, it can be difficult to measure the quality of some services, such as restaurants due to there being a large combination of several tangible and intangible attributes – such as the food and decoration, or service and atmosphere, respectively.
What are we measuring when we rate service quality?
Parasuraman, Zeithaml and Berry (1988) define service quality as "[…]an attitude related to, but not equivalent to, satisfaction, resulting from the comparison between expectations and the perceived overall performance".
According to this definition, each attribute of service quality should take into account two reactants: one focusing on the customer's expectation of the attribute (what they are hoping for) and the other on how this attribute is carried out (what they received). The difference between these two values, normally referred to as a gap, is what this approach refers to as service quality. However, Cronin and Taylor (1992 and 1994) proposed that, instead of measuring the gaps, we must measure the undertaking or carrying out of the service. This has proven to be a more valid method of rating service quality.
How many forks are awarded for my service?
This has sparked a focus on the measurement of quality with Professor Jorge Vera publishing the Mexican Scale of Service Quality in Restaurants (Emcaser), in 2017, with more than 6 pilot tests.
Specifically speaking, 29 main attributes were identified for the measurement of service quality in Mexican restaurants. The highest number of intangible attributes are found among table service restaurants, which are an intermediary point between service and product. It is recommended that each of these reactants be related to opinion scales that go from "Fully agree" to "Fully disagree" in order to really take full advantage of the scale.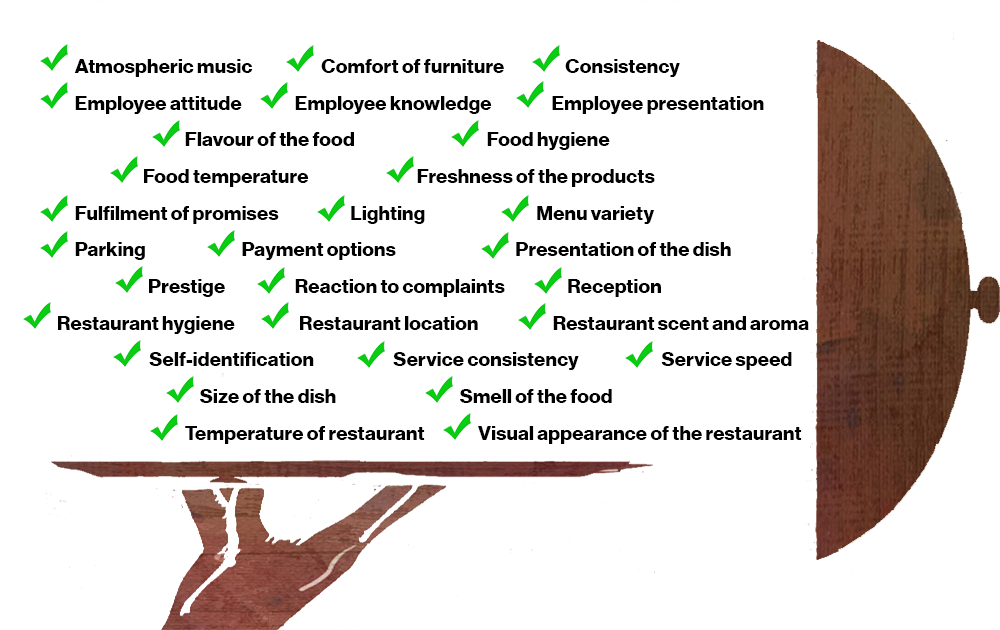 How can we fill the Mexicans' appetite?
It is vital for every service providing company to take care of the elements that are important to their customers, as well as making an effort to be perceived as an establishment that offers quality. In particular, it has been noted that Mexican restaurants need to pay more attention to the following aspects:
Mexican diners are more critical of their food than other cultures, as they take into account many different elements such as: the portion size, the presentation, the taste, menu variety, freshness, hygiene, atmospheric temperatures and scent.
Tangible factors such as facilities – appearance, cleanliness and location are important when evaluating restaurants in Mexico, as well as conveniences such as: parking, payment options and consistency in the food (meaning that what is served up is always of the same standard)
With regard to intangible factors, atmosphere is a priority – the music, aroma and temperature of the restaurant, the appearance and knowledge of the waiting staff – and their assertiveness - speed, empathy, ability to deal with complaints and their fulfilment of promises made.
Culture is also an influencing factor on how each customer judges the service that they receive. In Mexico, parking and the self-identification of the restaurant is highly valued, essentially, diners want to see people they deem to be similar to them in the establishment.
According to the 2014 Economic Census, 9.1% of registered businesses are related to food and drink preparation, and they employ over 1.5 million people.
Due to the Emcaser's broad spectrum of attributes, it is a useful tool for restaurant owners and managers to identify specific service elements to improve on, so they can favourably increase their perception among diners. It can also be used to draw comparisons between different restaurants, or different restaurant branches of the same chain, as well as detecting the service strengths and weakness of restaurants.