The current pace of global change is unprecedented. New disruptive business models are being developed exponentially, requiring resilient, highly innovative young professionals with different skills who will implement change and create the future. 
In this context, on September 10th started the new Master in Business Management started (MBM) of EGADE Business School, a one-year intensive program designed to accelerate the start of the professional careers of high-potential new graduates and young professionals, preparing them with the competencies needed to lead digital transformation in corporations. 
MBM students will be participating in corporate transformation practicums, enabling them to experience firsthand the real world issues faced by diverse leading organizations in the implementation of their digital transformation strategies, and will work in teams on projects to offer innovative, creative solutions.
"We are starting with a group of 23 very enthusiastic students; four are international students and the rest come from different parts of Mexico. The challenge is for them to be capable of developing disruptive business models based on digital transformation, and of designing the strategies organizations currently require in order to participate successfully in this context of change," commented Dr. José Manuel Maraboto Quepons, director of the full-time program, offered entirely in English.
The curriculum of the MBM program consists of four module threads: Enhancing Disruptive Thinking, Reinventing Business Framework, Leading Diverse Networks and Embracing Changes. 
Its state-of-the-art blended learning methodology combines face-to-face and online sessions, workshops, boot camps and more, to strengthen students' critical thinking, leadership and teamwork capacities, through participation in dynamic, experiential, highly immersive activities. 
For now, the MBM is only offered at the Monterrey site of EGADE Business School. 

In the voice of the students
Four students from the first generation of the Master in Business Management of EGADE Business School shared the aspects they like most about the new program.
"The classes are more dynamic. It's not just an ordinary class where all you do is take notes or listen to the teacher. You're working with your classmates, networking, learning," said Sergio Mendoza Gutiérrez, who is from Tampico, Tamaulipas, and a new graduate from the B.S. in Mechatronics Engineering at Tecnológico de Monterrey, Campus Monterrey, 
"This new experience will complement my area of specialization. Having the business competencies demanded by this world is of utmost importance. I think that the learning-by-projects part will allow me to learn so much more; doing things rather than just learning the theory is far more enriching," commented Sofia Alejandra Ponce González, who is from Celaya, Guanajuato, and recently graduated from the B.S. in Food Industry Engineering at Tecnológico de Monterrey, Campus Querétaro. 
"With this program, I would like to learn more about how businesses operate in Latin America and combine this with my Asian knowledge, perhaps with an eye to doing business between the two regions in the future. I know that EGADE Business School is one of the best schools in Latin America and has a good reputation. If I can complete this program, I will have a better opportunity in this market," stated Yao Ting Huang, who is from Taiwan and a graduate of Fashion Marketing at Fu Jen Catholic University. 
"I chose this program with the idea of continuing my education, acquiring more tools and more contacts that will really allow me to have a successful business. I like the dynamism of the courses, participating in workshops, visiting companies. I think the mix results in a fantastic learning experience for everyone," said Diana Elizabeth Jaime Torres, newly graduated from the B.A. in Business Creation and Development, Tecnológico de Monterrey, Campus León.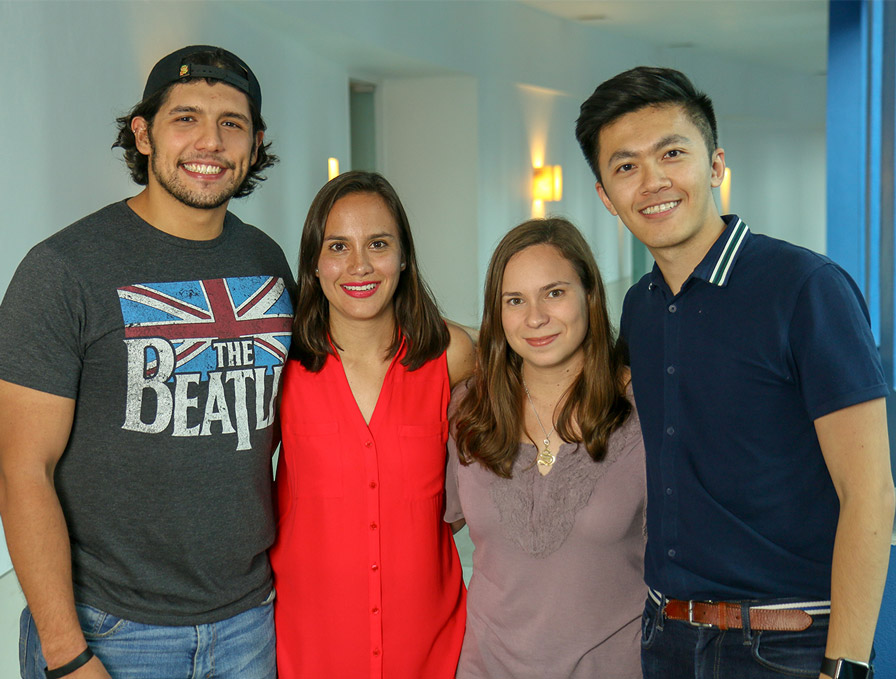 MBM students: Sergio Mendoza Gutiérrez (from left to right), Diana Elizabeth Jaime Torres, Sofia Alejandra Ponce González and Yao Ting Huang.