INC Corporate Innovation & Growth Forum, an event exclusively for large corporations seeking growth, got underway today within the framework of INCmty, thanks to the collaboration of EGADE Business School and the Eugenio Garza Lagüera Entrepreneurship Institute of Tecnológico de Monterrey. 
The event brought together a hundred directors from diverse companies and industries in Pabellón M, with the objective of accelerating innovation to drive growth, capitalize on opportunities and mitigate risk for a disruptive future. 
"Our forum today, apart from examining in depth the best corporate entrepreneurship and innovation practices, will lead to a better Mexico in times of transformation and the convergence of the analogical and digital worlds. A sound, vigorous corporate innovation and entrepreneurship model is the best formula for generating growth and a sustainable competitive advantage," expressed Ignacio de la Vega, dean of EGADE Business School, during the opening ceremony.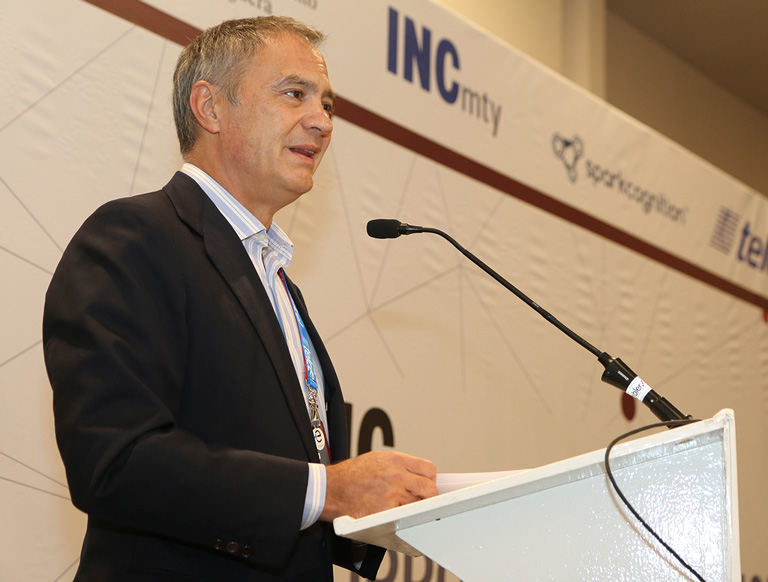 Activities began with the workshop "Unleashing the power of innovation in his organization", run by John Danner, professor at Princeton and UC Berkeley, who indicated that organizations, in order to unleash the power of innovation, must balance their execution with experimentation and failure. 
Daniel Marcos, CEO of Growth Institute; Shahid Ansari, former CEO of Babson Global; and Arturo Barraza, director of AT&T Foundry México, participated in the panel "Culture for a disruptive change and corporate transformation",  discussing the culture of disruptive change and corporate transformation.
The main speakers at the forum were Usman Shuja and Vijay Doradla, Chief Commercial Officer and Chief Business Officer of SparkCognition, a cognitive analysis startup that is applying Artificial Intelligence to solve cybersecurity challenges, and  Michael Morris, professor at the University of Florida, who shared his experience in developing an internal corporate entrepreneurship ecosystem. 
INC Corporate Innovation & Growth Forum came to a close with the panel "Future vision of Mexican companies", with the participation of Juan Pablo Murra, Vice-president of Relations and Development at Tecnológico de Monterrey; Alejandro Ramírez, CEO of Cinépolis; and José Antonio Fernández Carbajal, chairman of the Board of Directors of  FEMSA and chairman of the Board of Directors of  Tecnológico de Monterrey.